Once Upon a Time Nursery School
Fiona Carruthers established Once Upon a Time Nursery School at Wesley Methodist Church in September 2006 and acquired Woodrose Nursery on Woodbourne Avenue in June 2013. The Nurseries are now known as Once Upon a Time, Chapter One, and Once Upon a Time, Chapter Two. Once Upon A Time offers quality childcare and education across its two nurseries in Hamilton. Our passion for childcare, our provision of stimulating environments and experienced staff make us the perfect choice for your childcare needs.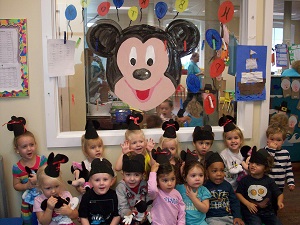 Our unique and individual nurseries provide a variety of activities and opportunities to encourage your child's development. We provide happy, stimulating, safe and secure environments where children can learn and develop to their full potential. We are an inclusive, high quality Nursery School providing early learning and care for 51 weeks of the year from 8.00 am – 5.30 pm for children aged between 2 and 5 years old.
We employ highly qualified, caring and motivated staff who deliver a fun and stimulating early learning programme. We are gradually introducing teaching and learning activities based on the English curriculum: The Early Years Foundation Stage. This describes the time in your child's life between birth and age 5. This is a very important stage as it helps your child get ready for school as well as preparing them for their future learning and successes. From when your child is born up until the age of 5, their early years' experience should be happy, active and exciting. We want you to be happy when leaving your child in our care. We encourage parental involvement so we can work in partnership to meet your child's needs. Our door is always open, where you will witness happy children, having fun and learning.
Please browse our site to find out more and envisage your child's future with us.
Chapter One
Established in 2006 Chapter One has developed into an Educational Facility with compassionate, friendly and productive staff. Parents are comfortable leaving their child and are assured they will be receiving an excellent education. Children who attend Chapter One move on to their next Chapter confident, assertive and knowledgeable children, prepared to take on new challenges. Chapter One is among the best Nurseries on the Island.
Chapter Two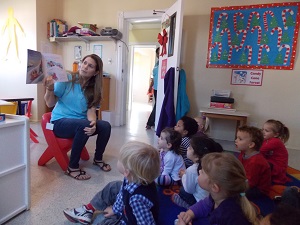 At Chapter Two we encourage children to learn by playing and exploring, being active and through creative and critical thinking which takes place both indoors and outside. The curriculum at Chapter Two provides a balance of activities that nurtures children to become happy, courteous, well-motivated and independent learners. Chapter Two has an active Parents Association who make a valuable contribution to the life and development of the Nursery.
In addition to our daily routines we have a full calendar of events throughout the year. These include our annual sports day, trips around the island and celebrating special events such as our Easter and Halloween fun days. We also support local charity events and invite children to participate in CrossFit, gymnastics and swimming classes.
Click on the Chapter Two tab above to find out more …